Green juicing has made me love myself, my skin, and my body like nothing else, and this is coming from a health fanatic who's done it all. So I am excited about sharing this "miracle drug" for youth, beauty, happy digestion, and tons of energy.
10 Easy Green Juice Recipes for Beginners
Here, I have picked out some of my favorite easy green juice recipes for beginners that I normally only share in the Green Juice Clinic. These are ideal for the beginner juicers. So get your juicers started, and don't delay your juicing another day!
Recipe #1 The Ultimate Pineapple-Kale-Blast
6-8 large leaves of kale with stem
1/2 large cucumber
1/2 bunch parsley (or cilantro)
1/4 to ⅓ pineapple meat, no skin
1 medium apple (either yellow or green)
The Pineapple-Kale blast has two fruits in it – pineapple and apple, and honestly, it is one of my most favorite recipes! I wanted to get you started with something that is more sweet than normal for a green juice and easier on your taste buds as you get started, so we are going a little wild here with our fruits.
If you wanted to modify, you can just skip the pineapple, because the apple will give you plenty to offset any bitterness in the greens. Please feel free to reduce the kale if you are just starting out on dark leafy vegetables.
Recipe #2: Reboot Essentials
1 apple (large or medium, any kind you like)
1 lemon
4 celery stalks
2 medium-large carrots
6-10 stems parsley
6-8 stems fresh mint
In this recipe, we are using a standard foundation of most green juices – carrots and celery – they go great together. Also, you are going to have one sweet fruit, use any kind of apple you like, and a lemon for the fresh citrusy taste and a blast of Vitamin C.
The mint is extra and it's fine if you don't have any, but it adds such great aroma. This should fill you up for 2 even 3 hours. Enjoy!
Recipe #3: A Spinach and Vitamin C Minty Rush
1 Whole Spinach Bunch (About 6 cups)
2 yellow delicious apples
1-2 lemons, unpeeled
2 oranges
1 chunk of ginger
6-8 stems fresh mint
I made this recipe when I was recovering from a cold and virus and it has done wonders for me. I was a little more liberal with the ginger so be careful how much ginger you use.
The spinach has healing nutritious elements and the apple was just a good way to sweeten it even more. This is more fruit than usual and if you want to modify, just skip the apple or go down to one. It makes a good 4-5 cups so you will have left-over.
Recipe #4: The Mean Green of Phil Staples
1 bulk of kale (8-10 main leaves+stem)
4 celery stalks
1 cucumber (Italian or other types)
2 Granny Smith apples
1 lemon, unpeeled
1 chunk of ginger
This comes straight from the Joe Cross film, Fat, Sick and Nearly Dead and it is the recipe made famous by Phil Staples. I have also added a little mint, and a little parsley when I wanted an extra bit of green in there.
Be careful with ginger. It is a sharp taste so define your chunk size by starting small, say a tea spoonful then go from there.
Recipe #5: The Power Popeye Infusion
6-7 cups of baby spinach
1 lemon, unpeeled
2 Macintosh (or other sweet) apples
1/3 of an Italian cucumber
8 leaves of Romaine lettuce
A small chunk of ginger
Optional: 2-3 garlic cloves
Growing up, I watched few American cartoons but I used to love Popeye the Sailor Man. Well, this is our version of Popeye recipe. This recipe made 3 1/2 cups of juice exactly and remember that the garlic is optional.
I liked the garlic taste even though it is new to me. The idea that raw garlic comes with medicinal benefits makes me enjoy the taste even more. I encourage you to start with at least one clove and go from there.
Recipe #6: Perfect Morning Essence
4-6 medium size carrots (without the carrot tops)
4 stalks of celery
1 lemon, unpeeled
1 Macintosh or Yellow Apple
Optional: ginger to your taste
You'll find this one in juice bars that serve vegetable juices. It does not have any greens as you can see. However, it has lots of vegetables and is very orange and delicious. Enjoy your orange yet green juice!
Recipe #7: The Rehydrating Refresher
1 Italian cucumber
1 lime, unpeeled
2 medium tomatoes
2 cups spinach
A handful of cilantro or parsley
Optional  addition: garlic, ginger, or a bit of both
This recipe is straight from my Green Juicing Comprehensive Guide. I love the taste of tomatoes and limes together, and I hope you do too. Enjoy this and feel the rehydrating refreshment you get from it on a hot summer day!
Recipe #8: The Yummy Red Green Juice
1 medium-size beet
1 large sweet apple (anything but Granny smith)
3-4 stalks celery
1 lime or 1 lemon, unpeeled
A handful parsley
Optional addition: Ginger
This drink is excellent for elimination, which in itself is the biggest benefit of green juicing. Beet juice is sweet, nutritious and fantastic for your body.
Beet takes a little while to get used to and the red color gets everywhere, so be careful not to get it on your nails or on your kitchen clothes. Apple reduces bad cholesterol, improves intestine functionality, all of which helps toward elimination.
Lime and lemon will give it the citrusy kick, and parsley is a nice herbal addition. Together, this is wonderful elimination recipe, and you can use it when you feel bloated or heavy and when your digestive track has slowed down.
Recipe #9: The Skin Smoother
2-3 medium size Heirloom tomatoes or tomatoes on the vine
1 large green pepper
2-3 small Persian cucumbers
1/2 of the Italian large cucumber
1/2 head Romaine lettuce or your favorite lettuce (not iceberg)
1 lemon, unpeeled
Optional addition: A handful of fresh mint.
This recipe is from my Juice Clinic. It is sweet, light, citrusy and refreshing. Vitamin A from tomatoes fights acne. Tomatoes are also a huge source of anti-oxidants. Lettuce has the relaxation and calming effect.
Green bell pepper juice is high in natural silicon, which may support healthy hair, nails and sebaceous glands.
Recipe #10: The Green Goddess
8 large kale leaves
1.5-2 cups spinach
12 strawberries
1 lime, unpeeled
2 Granny smith medium-large apples
A handful of fresh mint
Optional addition: ginger
The strawberry is a fun addition. It is the perfect cold drink for a hot summer afternoon.
Want to get healthier, slimmer and have more energy?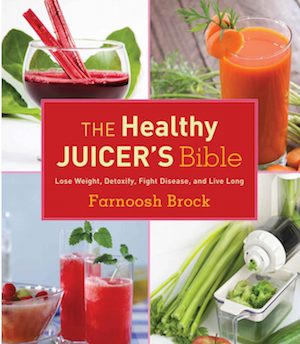 Did you know that of the 100+ people who've joined the juice clinic, or read my book, The Healthy Juicer's Bible, the #1 benefit among them is weight-loss and increased energy?
Are you looking for those benefits in your life?
Then stop taking medication or going on complex, fruitless and expensive diets. They don't work and they do more damage than good.
Start your journey with green juice and experience it first hand by joining the Green Juice Intensive Clinic while it's open. You will get immediate access to step by step lessons on how to juice, get exclusive green juice recipes, community support and access to a private Facebook group (+ a bunch of free bonuses!)
Grab Your FREE 21 Juicing Tips