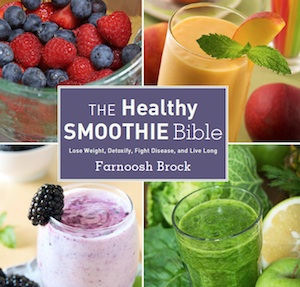 Welcome! So glad you are here! This is a page of resources used in The Healthy Smoothie Bible as well as other websites and references that I have found useful to share with you. Keep an eye on this page, as it will continue to grow!
I am grateful for all the bloggers, writers, food enthusiasts, journalists and podcasters who contributed to the success of The Healthy Smoothie Bible. Below you will find their websites.
In addition, I wanted to provide a useful list of references for those enthusiastic about smoothies or healthy eating in general!
Great Smoothie Resources from around the Web
1. The Prolific Living "Greenterest" Pinterest Board
2. Wolfram Alpha Search Engine – for calculating calories of smoothies.
3. Suzanne Fiore has a wonderful Pinterest page that showcases many different types of smoothies that you can make…she uses the Magic Bullet! See her Smoothie Fun Pinterest Board here.
4. Carissa from creativegreenliving.com shares a yummy green smoothie along with a (time-sensitive) giveaway of the Healthy Smoothie Bible!
5. The Art of Roaming Cooking has a great post on smoothies while traveling, and a couple of recipes from the HSB in 2 Great Smoothie Recipes & Blender Options for Travelers.
6. Roots and Sprouts has a comprehensive post on smoothies, detailing the different types, the health benefits of the ingredients and some of their favorite combinations. Hurry up and go read Healthy Smoothies For Weight Loss (with delicious recipes).
Press and Media about the Healthy Smoothie Bible:
1. Vidya Sury provides our first wonderful review of the Healthy Smoothie Bible!
2. The Social Business Podcast has a great interview with Farnoosh around the launch of the Healthy Smoothie Bible.
3. Dan and Vanessa Hayes from Simple Life Together go all out (see here!) in describing the HSB on SLT064: Healthy Smoothies Made Simple.
4. Reeger Cortell talks with Farnoosh about Health, Happiness, and Smoothies!
5. Christina Canters and Farnoosh discuss the HSB and how Healthy Smoothies WILL Change Your Life!
6. Angelena Riggs from On Fire Fitness talks about how the book fits into her diet during her Paleo Week 3 Update + The Healthy Smoothie Bible.
7. Vickie Velasquez talks with Farnoosh about the HSB on the Vegetarian Zen Podcast.
8. Natalie Sisson from the Suitcase Entrepreneur discusses not only smoothies but also the business behind them in How to Profit from Your Passion and Publish Multiple Books with Farnoosh Brock.
9. I wrote an article for Inspiyr.com about the Benefits of Healthy Green Smoothies.
10. Pilates Bridge and I discuss the HSB, I offer some new recipes along with a good discussion on how to Simplify Your Nutrition with Delicious Smoothies.
11. Phil Ferrante digs into the HSB with Farnoosh in Episode 32 of the bFitandLive Podcast.
Any questions? Don't hesitate! Contact me!
You might want to check out Farnoosh's book on juicing: The Healthy Juicer's Bible!
Go all out and become a part of our juicing community by joining the Green Juicing Clinic
Or sign up to our Juicing Newsletter below!
Grab Your FREE 21 Juicing Tips