What is A Beauty Detox Anyway?
A beauty detox is not just a marketing term from the beauty industry to lure you into buying their next expensive product. At least not when I use it!
The beauty detox, such as a juice cleanse or a smoothie detox, that I am talking about is detoxing from the inside out by cleansing your internal organs and your digestive track from past foods that may have caused a number of adverse effects on your body, both on the inside and the outside your body – and because what you eat affects how you look from the glow in your skin to the shine in your hair and the sparkle in your eyes, it affects your overall beauty.
By the way, beauty applies to both men and women. Guys, you are included in here. I have called my husband a beautiful man on more than one occasion, and why not? Beauty is a natural human desire, and if you can achieve it through simple natural means, all the better.
I've used all the expensive creams, the fancy lotions and been on complex starvation diets more than I care to count, and not once did I feel the kind of glow and beauty in my skin the way I do now when I drink my detox green smoothies on a regular basis. One reason for it is the simplicity of it. It is super easy to add beauty detox green smoothies into my daily regimen.
When a beauty system is simple, you stick to it. When it's complex, you forget about it.
Let's simplify our approach to beauty today. I've got a delicious green smoothie recipe for beauty detox that you, my dear, are going to LOVE!
Green Smoothie Recipe Beauty Detox
This recipe is water-based, gluten-free, dairy-free, vegan, completely raw and super kind to your digestive system. The recipe uses only fruits and vegetables, so be sure you are well-stocked with the fridge and freezer essentials.
The recipe instructions below yield 3 serving sizes. Each serving size is 132 calories containing 26 grams of crabs, 2 grams of protein, 19 grams of sugar, and 75 grams of sodium. The source of nutritional information is MyFitnessPal app.
1 1/2 cup filtered water
2 frozen organic bananas
2 stalks of celery
3-4 leaves of kale
2 small cucumbers
1 small apple, any kind
1 small pear
1/2 lemon
1 small pinch of ginger
Optional: 1/2 cup fennel for aroma
Replacement:
Use spinach instead of kale.
Use lime instead of lemon.
Use pineapple instead of apple if you really want to have a blast!
Instructions:
Put everything in the blender, except the lemon. Just squeeze the lemon half into the blender. If you have a small blender, blend the greens first, then add the fruit. If you have a Vitamix, use your tamper to move the ingredients around. Blend on high for about 30 seconds or until desired consistency. Pour into 3 Mason Jars. Refrigerate left-overs for up to 24 hours.
Regimen For Best Beauty Results
If you are starting out, make this recipe every day for a week. Have at least 2 servings per day and replace at least one full meal with it. If you are still hungry, make another batch. You can have more. You can save the left-overs in the refrigerator for up to 24 hours, but I personally prefer my smoothies fresh out of the blender. Have a raw salad for your other remaining meal(s) and minimize processed foods, fried foods, outside dining if possible and eliminate junk food and sodas for the during of the week (if not longer!).
Order my Next Book: The Healthy Smoothie Bible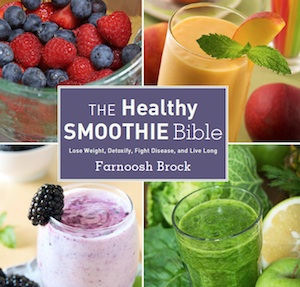 If you are serious about creating the healthy smoothie lifestyle, my new baby, The Healthy Smoothie Bible, came out in April 2014.
The book is packed with 108 original recipes and mouth-watering pictures that will make you run to your blender to try a new recipe!
For free juicing and smoothie tips, hop on the list below:
Grab Your FREE 21 Juicing Tips